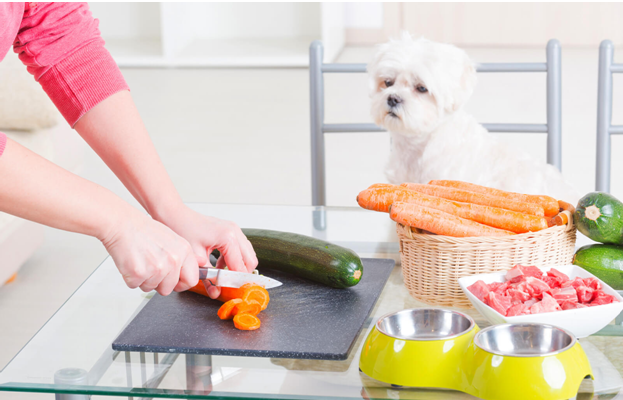 Dogs are domestic creatures that serve multi-purposes, friends during the day, and our security at night. Asides from medication, well made fresh dog food is another vital aspect you must consider in terms of providing the best care for your pet.

You could either get healthy dog food from Apupabove or prepare it at home yourself. If you prefer the second option, then we would be taking you through some steps that would enable you to prepare some good meals for your pet. So, get your sleeves up and get set to learn some quick tricks.
Steps to Preparing Fresh Homemade Dog Food
Below are some steps to help you prepare homemade food for your furry friend.
Step One: Get Balanced Food Recipes
One thing you should avoid is preparing a meal that lacks vital nutrients for your pet. These vital nutrients include calcium, zinc, copper, and iron. Research shows that most dog food recipes are lacking one or more of these vital nutrients.
As a result, you must be meticulous when choosing a recipe. Now, selecting a proper recipe for fresh dog food might require doing some research on the recipes made by experts, especially dog nutritionists. You also need to look at previous records as well as other pet parents' experiences with making dog food. You could also make inquiries from your vet.
Other vital nutrients that should be contained in your recipe are:
Fat which you can get from oil or meat.
Protein from seafood, eggs, or dairy.
Carbohydrates contained in vegetables.
Calcium from eggshells or diary.
Some dogs that have health complications might require special meals. In this case, an experienced pet nutritionist can provide you with a suitable recipe. You may want to click here to get more information on dog nutrition.  
Step Two: Prepare Properly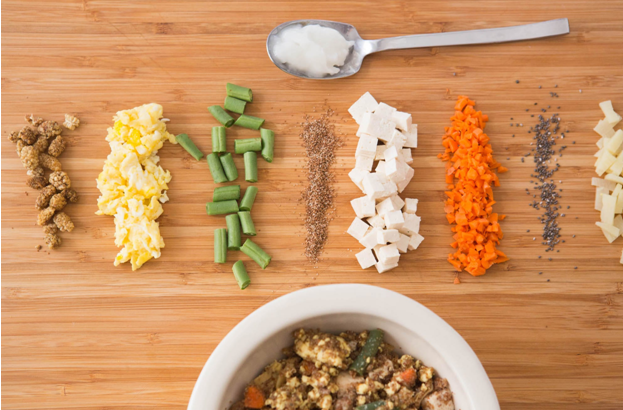 After getting a balanced recipe that would fit the major nutritional needs of your pet, what you should do next is not to gamble with preparations. You should understand that this is not just experimentation but a meal that needs careful preparation. So, be sure to follow all the steps in the recipe book.
Be careful not to swap ingredients in the course of preparation. Some ingredients might appear alike, but they are not the same. For instance, swapping walnut oil with coconut oil could cause some imbalance as they have different nutritional values.
You might also want to get the correct measurements for your recipe. Now, this means you need to get a measuring scale. These are more preferable than cups.
Ensure that you eliminate the bacteria in animal products like beans, grains, and veggies by cooking. The presence of bacteria can make your pet fall sick. Avoid adding things like grapes, onions, raisins, chives, raw or undercooked eggs, bones, and meats, nuts, caffeine, alcohol, and chocolates.
Step Three: Use the Correct Supplements
Using proper supplements is also helpful in providing the correct nutrient that may be missing in your pet's meal. No homemade recipe can actually have all the needed nutrients. Therefore, your furry friend needs supplements to make up for that missing nutrient.
The correct dose of supplement would be attached to the recipe to ensure that the meal is balanced. You may want to check https://www.dogfoodadvisor.com/forums/topic/what-vitamins-and-minerals-to-add-to-homemade-food/ to follow discussions on the appropriate supplements for your dog.
Step Four: Monitor the Diet Progress
After some time of using the recipe, say 2 to 4 weeks, you should take your pet to see a vet. This will ensure that their health is still in perfect condition, not adding much or losing weight. If you notice a change in their weight, then you should check back after some weeks.
Ensure to take your pet to your vet. Do this at least twice yearly. This would enable the vet to detect any complications that might occur due to a wrong or imbalanced diet.
Conclusion
Parenting a dog is one that comes with a lot of responsibilities most of which include providing healthy, fresh food for them. This should be done with optimum care while following the correct procedure. And always ensure you take proper advice on the subject matter from a professional pet nutritionist.