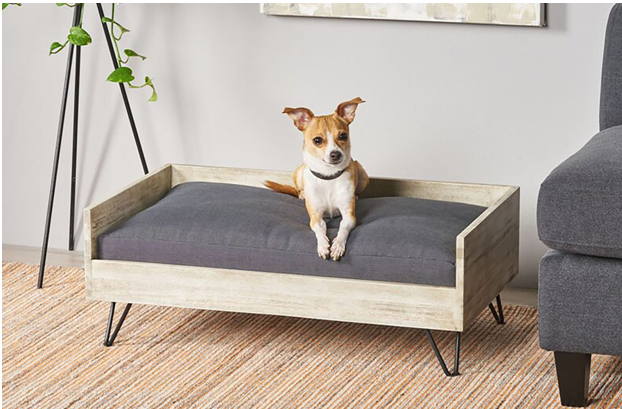 When it comes to taking good care of your dog, you need to have the right setup. And this will include preparing their sleeping space to be as comfortable as possible. While there are many options to choose from when in the market for a sleeping solution, organic dog beds seem to do the trick when it comes to a safe alternative as regards their skin. And if you have been looking to purchase a new bed for your canine companion, you will find tips below on how to choose the right organic dog beds for your pet space. 

Why Choose Organic Dog Beds?
One material that is common in all things fabric from clothing to sleeping mattresses and pillows is cotton. And it is not only humans who need fabrics that are safe and comfortable to the skin, pets too will surely benefit from a natural, organic solution as it relates to their sleeping solution. And if you are wondering what the fuss is all about as regards organic pet beds, below are some of the reasons why they come highly recommended by experts. 
Made from chemical-free materials that are safe for pet's health
An environmentally friendly solution that will put you and your pet on the track to a sustainable lifestyle
Made to be pressure relieving and supporting to the body so you can rest assured your dog won't wake up feeling physically sick
Ensures your pet catches enough sleep and wakes up feeling well rested with enough energy to jump around
Durably made to support the rigorous nature of the dog lifestyle which could be hard for regular pet beds and mattresses to support
With custom options available like those provided by some retailers in the market, you get to choose how you want your organic dog bed to look
There is also the benefit of a washable dog bed that you can easily toss in the washing machine to ensure your pet and your home stays clean
How to Shop for Organic Dog Beds?
This is where you need to be extra vigilant. You don't want to get swayed by cheap prices and marketers with sweet tongues who will talk you into buying a crappy piece of dig furniture that won't be safe to use. So when in the market for an all-natural dog bed or mattress, you want to take note of the following information. 
Manufacturing Material
The first thing to take note of is the material the bed is made from. And the best options in the market usually feature cotton and foam that is sourced from countries with a good tradition of respecting organic farming practices. While most of the mattresses around are made from foam that does not fit into the context of being sustainable, you want to go the extra mile to ensure that you pick an option that doesn't feature synthetic materials. 
Size 
Okay, now you get to determine how large you want the bed to be. While it is true that, unlike humans, dogs don't roam about the bed when they take their beauty sleep, but you do want to ensure that there is enough space to support quality sleep. So you may want to get an option that has enough room for them to grow into if you are shopping for a puppy. 
Ideally, you can find them available in different dimensions which include small, medium, large and extra-large. So you shouldn't have a hard time finding the right option to fit into your dog's sleeping space or accommodate the size of your furry companion. 
Choose the Right Filling 
Another critical aspect of the dog bed shopping process is to consider which filling option will be right for your pet. The right option for a dog with arthritis and joint pain issues will be an orthopedic pet bed that features quality memory foam that can support their health. But you want to also make sure to shop in the green category of your pet store when looking for this option. This website has more on the best materials to fill a dog bed. 
Care and Maintenance
You also want to go for an organic dog bed that is easy to maintain. What you should look out for here is that it is easily washable in the washing machine and can also support the use of cleaning agents without doing damage to the construction. You want to be careful to use only pet-friendly washing ingredients that are made from organic sources that won't be toxic for pets to breathe or sleep on. 
Price Perfect 
Now you have to conclude how much you can cough out for an organic pet bed. The good thing is that they don't cost much and you can find good deals online if you search carefully. But the best way is to make a budget of how much you can splurge on new pet furniture before checking the available options online. You want to be careful not to fall for cheap prices as it is common to find many cheap deals when shopping in the pet section in many online stores. 
Where to Find Organic Dog Beds?
There are mostly available for sale at your local pet supply or furniture store where you can visit and check the different options available for sale. It is also possible to find quality options on sale online if you go through popular online retail shops that stock pet supplies. You want to do well to read through the review section to be well informed on what others have to say about the quality of the beds. You can find out more on this page https://petcomments.com/do-dogs-need-beds/ about why your dog needs a bed. 
Final Note 
When it comes to the best option for a dog sleeping solution, organic dog beds and mattresses are good options to choose from. You want to do well to follow the shopping guide provided above when in the market for one.